Join Our DIY eBook Affiliate Program
ClickBank affiliates earn 50% commission selling How To Build Your Own Tiki Bar AND How To Build Your Own Tiki Bar Table and Stools! Joining our affiliate program is easy and absolutely free.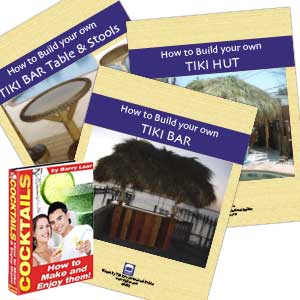 It's simple to earn commissions by selling our e-book as an affiliate through your own ads, newsletters and e-zines and your websites. All you need to do is sign up with ClickBank, then place small text ads on your website, send emails to your newsletter subscribers, etc. and the money starts rolling in.
Ready to begin making money? Alright, just follow these steps:
Step 1. Sign up for the ClickBank affiliate program by clicking here.

Step 2. Use the form below to generate your affiliate link:
Affiliate Link
The affiliate link is structured like this: http://AffiliateID.tikibar.hop.clickbank.net
Just replace 'AffiliateID' with your ClickBank nickname
"tikibar" is the nickname for Tiki Bar E-book product)
You can view the product sales page here (where prospects are referred).
How to advertise on your website
Search-engine Style Text Ads:
Build Your Own Tiki Bar
Save 70% On Professional Tiki Bar
Your Own Tiki Kev Signature Bar!
TikiKev.com
Back Yard Tiki Bar Paradise
Start the Blenders! in Margarita Ville
Build Your Own Tiki Kev Signature Bar!
TikiKev.com
Basic Text Ads:
Just add sentences like these to your website or newsletter:
Build Your Own Tiki Bar for 70% Less
Authentic Tiki bar style brings that island feeling to your back yard
Signature Tiki bars are like a piece of fine furniture for outdoor use, built to last for years
A paradise-like atmosphere, like a mini-vacation in your own back yard every day
Tiki – is a state of mind, an instant ambiance and a distinctive Tiki bar provides a congregation area to socialize and unwind after a long day. Add a few friends and it's an instant party without the hassle! Conversations and rum punch seem to flow with ease within this relaxing Tiki atmosphere. A Tiki Bar is a welcome addition to any home and lifestyle.
NOTE: Be sure to change "AffiliateID" in the text ad links above to your ClickBank nickname (so you get credited for sales).
Thank you for partnering with me!
Tiki Kev