We Believe That Everyone Deserves Rest and Relaxation!
That is why Tiki Kev creates the ultimate personalized retreat atmosphere right at your own home. We design all of our Tiki Bars, tiki huts and custom built decks to accomodate your specific area and needs. All of our Tiki Bars are custom made in our shop in Montgomery County, PA and delivered and set up at your home by our staff.
We Offer You the Highest Quality Craftsmanship for Tiki Bars and Tiki Huts Anywhere!
Our Tiki Bars are built to withstand the cold temperatures of Canada or the hot temperatures of Florida. We are second to none. Can you find a cheaper bar with another company? Sure. Can you find a cheaper bar with the same quality and craftsmanship? Absolutely not. We use only high-quality materials and craftsmanship to construct each and every Tiki Bar, Tiki Hut and Tiki Furniture.
While most of our Tiki Bars are built using cedar wood, we have many other choices such as bamboo plywood, bamboo reed, pine and T-111 just to name a few. Options include outdoor carpeting, electrical outlets and switches, ceiling fans, rope lighting, refrigerators, beer meister, cabinets, sinks, footrests, sound systems, outdoor tv with cable, wall mount bottle openers and more! The Tiki Bar options are limitless.

We Stand Behind Our Products 100%!
Once you see our Tiki Bars, you will understand why. We travel nationwide to create the best backyard vacation atmospheres anywhere in the country. Click here to see what our customers have to say about our work, and you'll see why we're one of the top Tiki Bar builders in the country.
Just Another Day in Paradise…Right in Your Own Backyard!
It's a state of mind, and a way to create an instant party atmosphere, anytime you want. There's nothing like walking out your back door into paradise. With a professional-quality Tiki Hut or Tiki Bar, a party is just a phone call and a few steps away – any day, every day.
Just add friends, and watch as the conversations flow and you and your guests unwind into a relaxed state of mind. The ambiance and atmosphere created by a Tiki Bar or Tiki Hut adds distinction to any home!
Here's what you will love about our signature custom Tiki Bars and Tiki Huts:
Appearance: Our authentic Tiki Bar and Tiki Hut styles bring that island feeling to your back yard!
Atmosphere: One-of-a-kind Tiki Huts and Tiki Bars create a paradise-like atmosphere, like a mini-vacation in your own back yard every day!
Relaxation: Escape the everyday stress and let your family and friends relax, start the blenders and enjoy life under your own Tiki Hut or Tiki Bar!
Fun: Tiki Huts and Tiki Bars are a great conversation piece!
Uniqueness: Your own custom Tiki Hut or Tiki Bar is an original, reflecting your own tastes and preferences!
Parties: Create an instant gathering spot for you and your family and friends under your Tiki Hut or Tiki Bar. The Tiki atmosphere is a fantastic way to enhance any party or gathering with a piece of paradise!
Affordable: Build Your Own Tiki Bar ebooks are now available if you want to do it yourself. Save money on shipping and labor costs, and learn how to build your own Tiki Bar, Tiki Bar table and stools!
Quality: Our signature Tiki Bars and Tiki Huts are great outdoor structures built to last for many years given proper maintenance. We use only top-quality materials on every Tiki Bar and Tiki Hut we build!
We also provide top-notch fireproofing and water-proofing techniques to ensure that your Tiki Bar or Tiki Hut is both safe and long-lasting. With proper maintenance and treatment, even the roofs can last 5 to 7 years.
So, don't settle for a cheap imitation or low-quality design. You deserve the best.
Call 1-800-792-TIKI (8454) or contact Tiki Kev
to bring your ideas to life!
---
Check Out Photos and Videos from Tiki Kev's National Appearances!
---
Watch Tiki Kev's Theme Song Video!
---
Letter From Tiki Kev
I began my construction background as a contractor's helper in the early 1980s. I quickly learned many aspects of building: homes, additions, remodeling, decks, etc. After three years as a helper, I decided to start my own contractor business. In the beginning it was rewarding, but after time it became a "job".
After six years in my own business, I focused my expertise on designing and building decks. I was drawn to being outside and creating special spaces for customers in their outdoor yards. This had become much more rewarding to me than remodeling had been.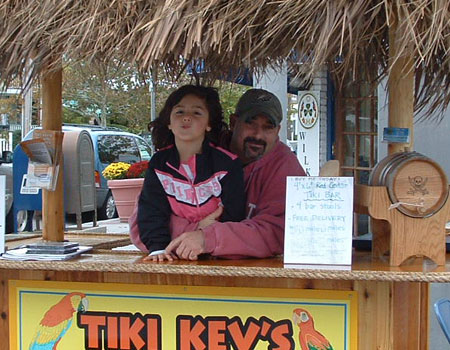 While in Jamaica on vacation, I was standing under a Tiki Hut on the beach when it hit me – I should be building these. After I returned home, I designed and built my first Tiki Bar and Hut. A guest at my home approached me and asked that I build him one.
The Tiki Bars and Huts were a natural addition to my attraction of designing outdoor spaces for customers. I built several samples, held an open house at my wood shop, and the rest is history.
I enjoy going to work every day building custom Tiki Bars for customers and also sitting at them. Besides designing and building these bars, I enjoy meeting and talking to many people around the country that enjoy the same lifestyle that I do that is enhanced by a Tiki Bar.
Cheers,
Kevin C. Dunn
aka Tiki Kev®